Let's fill their childhoods with Christmas magic!
The anticipation and lead up to Christmas is a special source of joy for children. The snow-covered streets and celebratory atmosphere often evoke our own childhood memories when we joyfully opened gifts, lit fires and spent time with family and friends.



Our desire to experience the beautiful and extraordinary spirit of Christmas strengthens our child-like imagination while amplifying the significance of the holiday!
As adults, we now understand that the essence of the magic though is in the love and harmony that we shared with our families while joyfully waiting for Christmas. These deepest memories of our loved ones remain etched in our hearts. They are the foundation on which we have built ourselves.


Unfortunately, there are many children who can only hope to one day feel the magic of Christmas. Tens of thousands of our children experience Christmas like any other day – with a piece of bread and a glass of milk in old and dilapidated houses, fearing at any moment that they may lose even the little they have.


Christmas symbolizes the birth of hope. For centuries, Christians have provided help and comfort to those in need, providing hope through generosity and mercy for one another.


The Charity Organization Serbs for Serbs invites everyone to participate in our traditional Christmas fundraiser. We hope to collectively fill the childhood of Maja, Mite, Nikolina, Ana, Manuela, Slavica, Darko and other impoverished children with Christmas magic!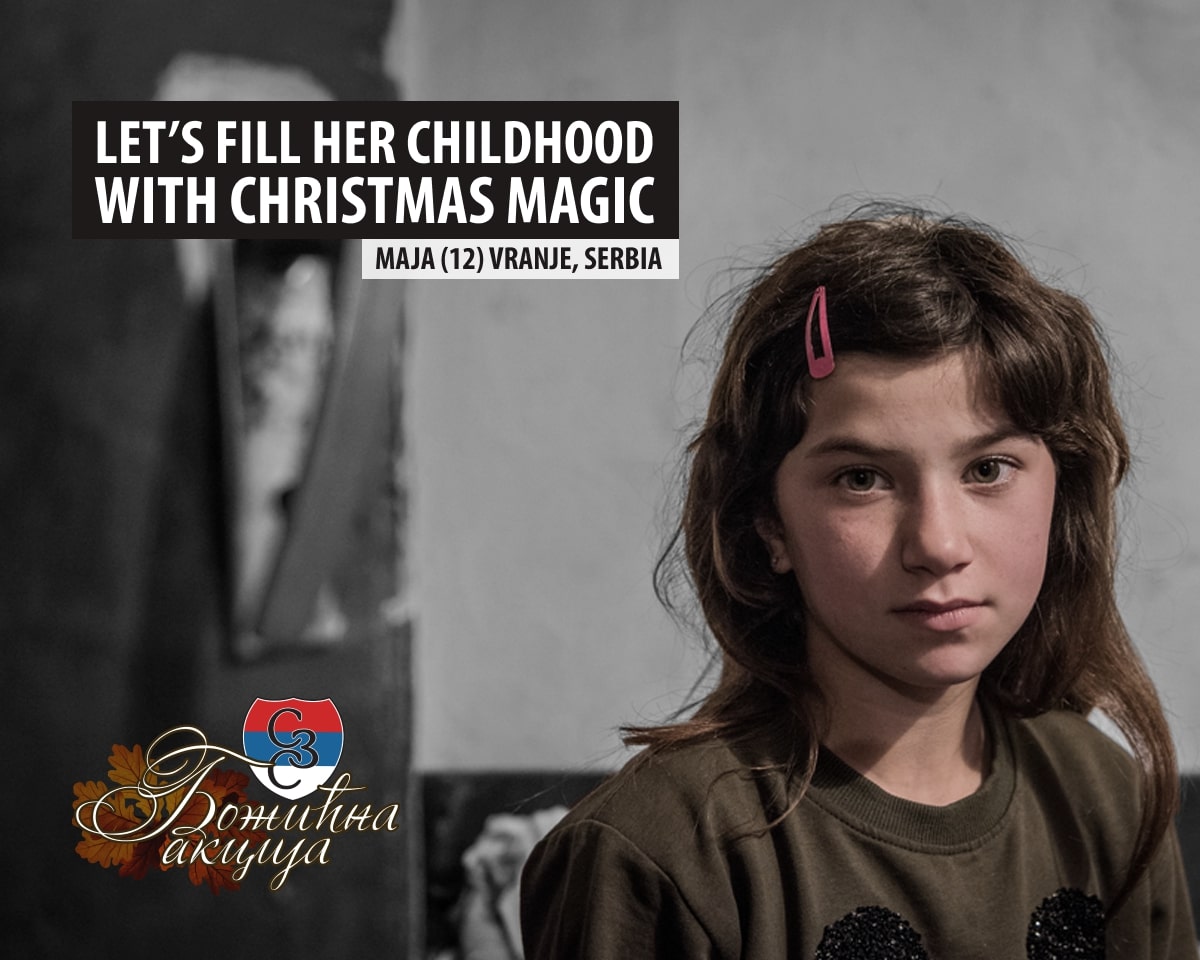 Up until only two months ago, Maja Jovanović and her sisters Milica (9) and Milena (13) lived in the mountain village of Trstena. It is located 30 kilometres from Vranje, in a rural area so remote that there isn't even cell reception. Their grandmother Vidosava could no longer watch her grandchildren suffer, walking over 10 kilometres to school and back every day, so she took matters into her own hands. She decided to rent a house in poor condition for a mere 1,500 dinars a month, in order for the girls to live in the village of Vlase where the school is located. Left behind in a dilapidated house are Milorad, who just turned one, father Goran and mother Biljana, who is not in good health. This family now lives at two addresses, barely making ends meet, but dreams of finishing the house that Goran started building earlier.


Maja's greatest wish is for her family to be together again! 


We plan to finish the house for the Jovanović family. Over 15,000 euros are needed to complete this project.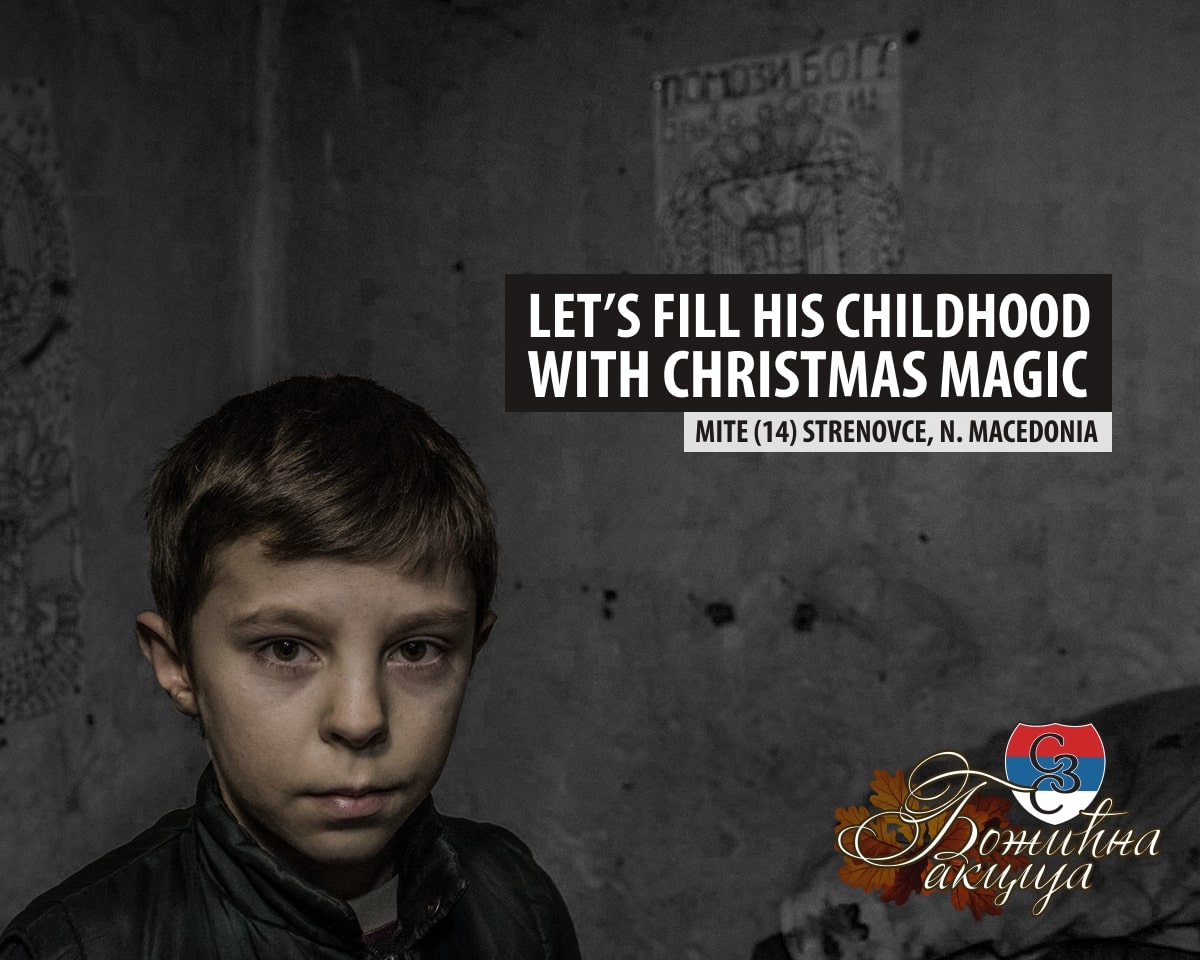 Mite Lazarevski's childhood is being spent in very difficult conditions in the village of Strnovce in North Macedonia. In addition to Mite, the family consists of his father Stoje, mother Blagica, sister Katerina (16) as well as their elderly grandmother Stojanka. Their survival is dependent on agriculture and livestock – cows and a donkey. Despite these living conditions, young Mite continues to be positive. As we can see, his walls are decorated with the joyful greeting – "Pomozi Bog, braćo Srbi!"


Mite's greatest wish is for him and his sister to get their own rooms! 


We plan to build a new house for the Lazarevski family. About 30,000 euros are needed to complete this project.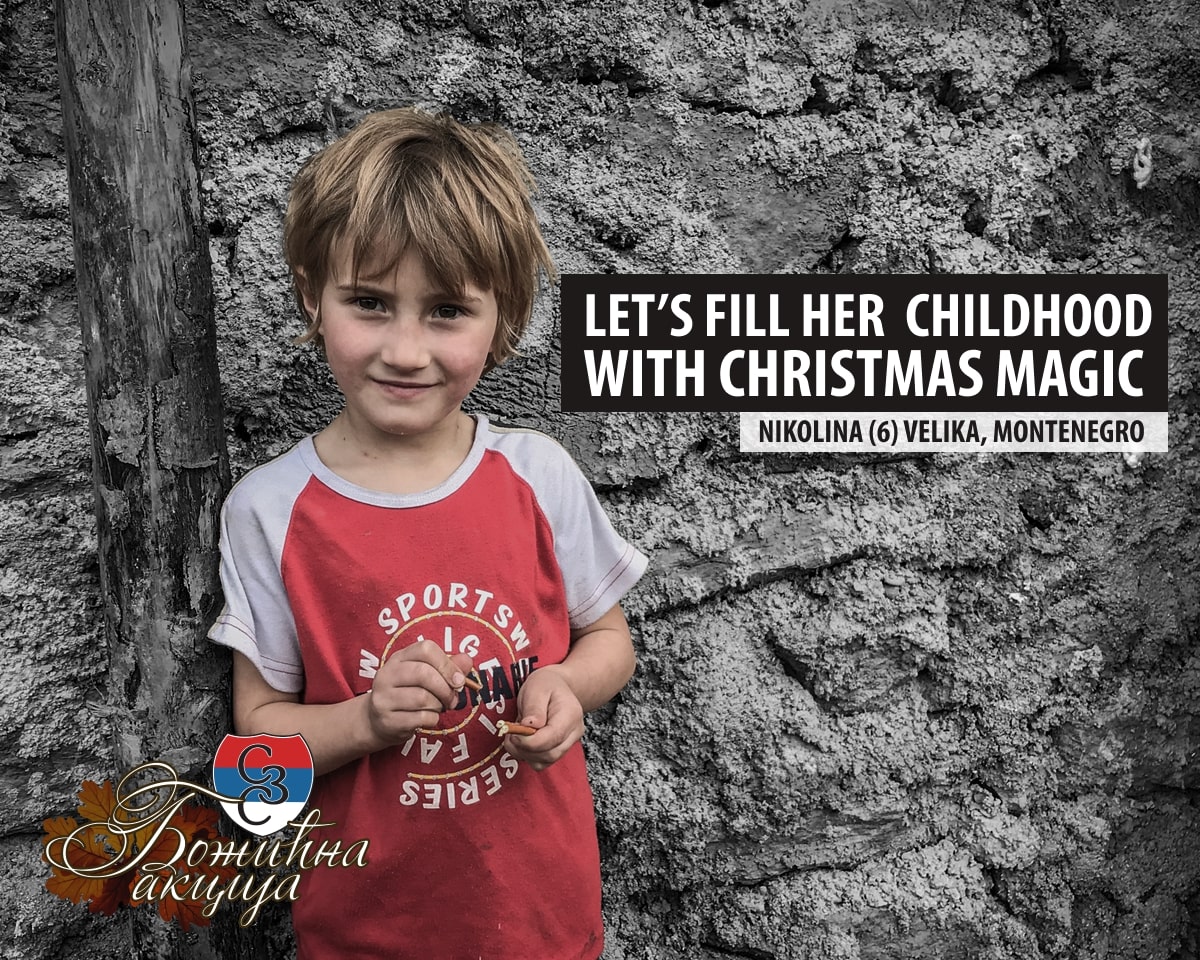 Nikolina Jokić is a bright and beautiful girl with hearing and speech difficulties. She lives in Montenegro in the village of Velika. The village is also known as "little Jasenovac", due to the fact that at the end of World War II a brutal massacre of over 400 children, women and the elderly was carried out over the span of just two hours. Nikolina lives with her siblings – Svetislav (19), who attended a school for children with developmental disabilities, Bogdan (16), Dijana (13) and parents Sladjan and Dragana. They live in an old dilapidated house that was additionally damaged by a strong earthquake a few years ago.


Nikolina's biggest wish is to have a warm home! 


We plan to help the Jokić family with the renovation of their house as well as purchase of furniture and agricultural machinery. Over 10,000 euros are needed to complete this project.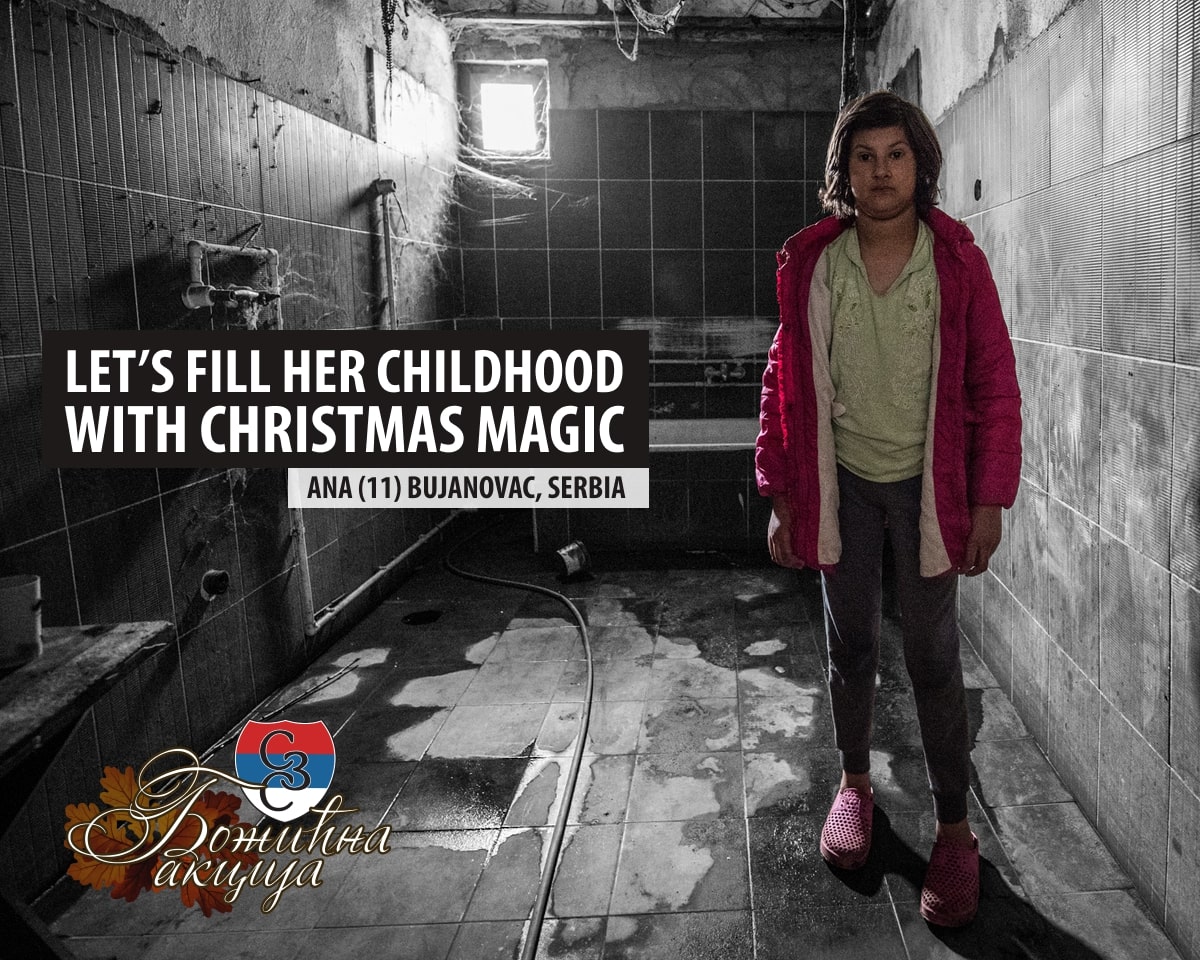 Ana Janjić lives in Bujanovac, a poor town on the administrative line with Kosovo and Metohija. Her 100+ year-old home is in horrible condition. Ana lives with her single mother Dušica, uncle Ivica and grandfather Dragić. Her mother can barely walk, and has suffered from spine and shoulder blade ailments since childhood.


Ana's biggest wish is to have a fully functioning bathroom with running water! 


We plan to build a new house for the Janjić family. About 25,000 euros are needed to complete this project.


Manuela (10) and Slavica (8)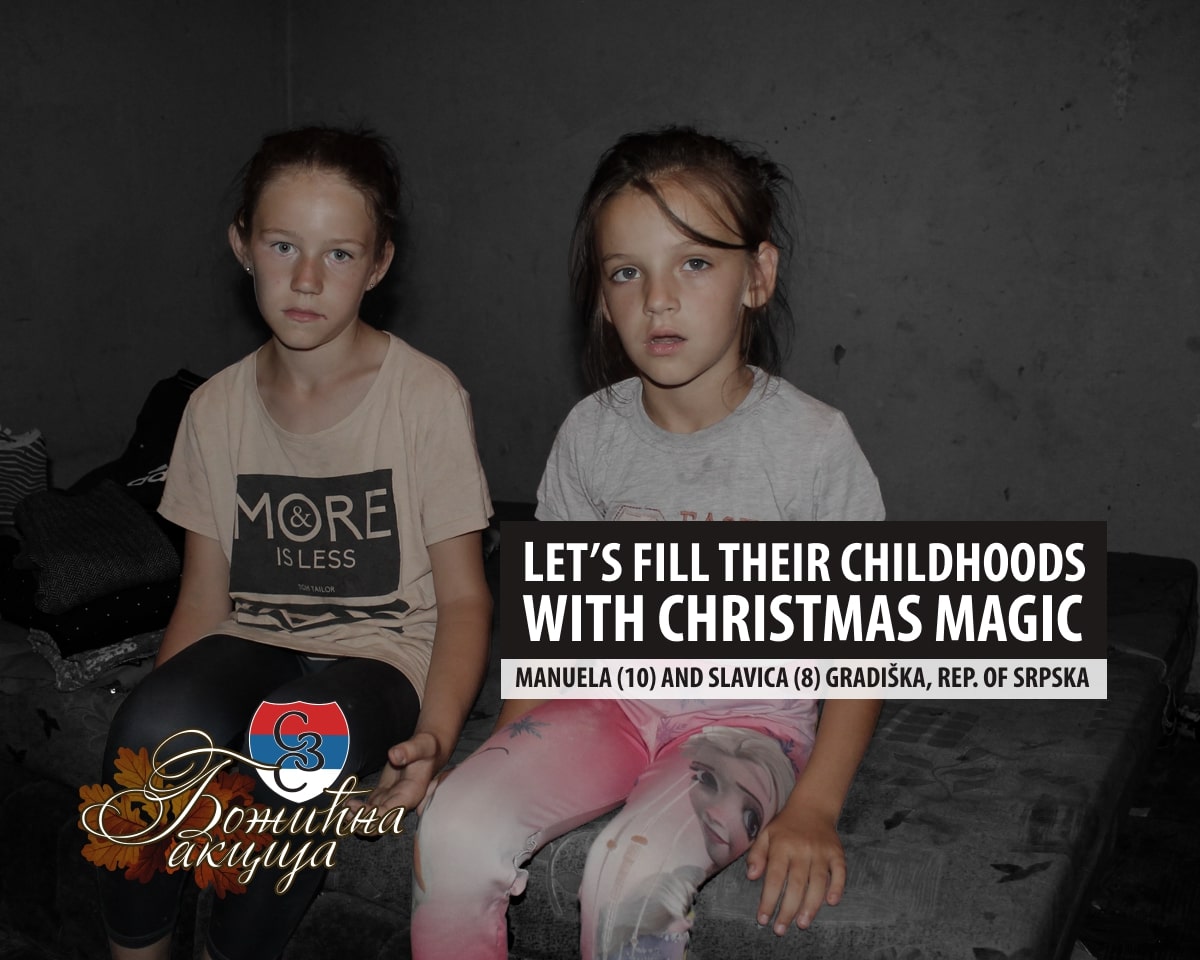 Manuela and Slavica Mirković have two brothers, Slavko (7) and Dragan (5). Their single mother Milka is raising them, in addition to caring for their grandmother Stoja, who has mental health problems. They live in the village of Laminci Brezici near Gradiška in Republika Srpska, in a disintegrating home that does not even belong to them. The modest income they have is not enough to meet even basic needs, let alone solve their housing situation. Despite their hardships, the children are wonderful and exemplary students.


Manuela's and Slavica's biggest wish is to have proper closets in which they will be able to put their belongings in! 


We plan to provide a house for the Mirković family. About 30,000 euros are needed to complete this project.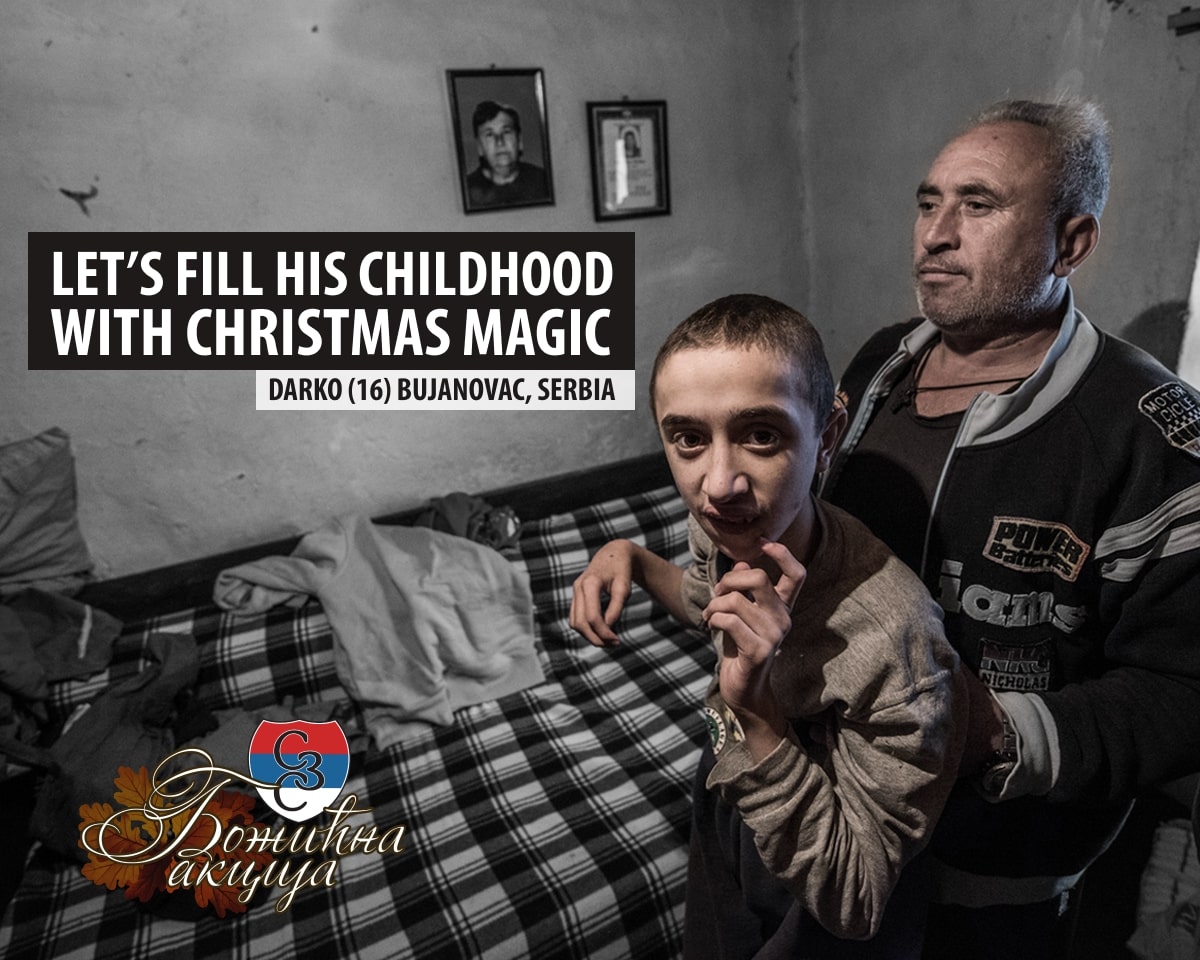 Darko Arsovski is a boy who suffers from severe polio. He is cared for by his single father Goran and his brothers Marko (13) and Miloš (18). In the house where the four of them live, the premature departure of their mother, who died last year, is still felt at every step. Darko sometimes needs emergency medical help, but that medical assistance is anything but accessible. There are no roads that lead to their village Starac, specifically Čivčija. They live in Serbia, yet are cut off from Serbia. The only connection with civilization is a wooden bridge over the Pčinja river, that they built themselves, that leads them to N. Macedonia. That's where they started building a house, but haven't gotten far.


The greatest wish of the Arsovski family is for Darko to finally get normal living conditions! 


We plan to build a house for the Arsovski family. Over 25,000 euros are needed to complete this project.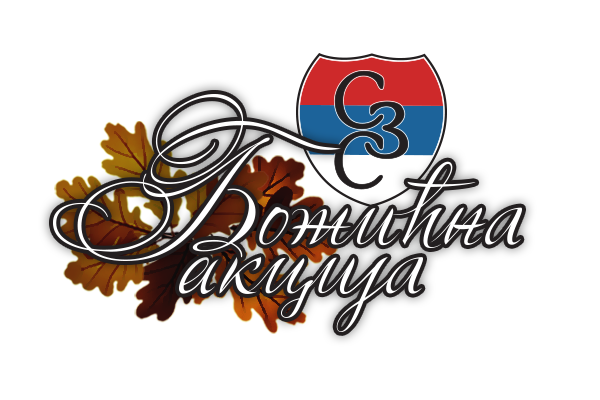 How can you help? 
Christmas is fast approaching. With the help of all our donors, we hope that we will be able to bring the magic of Christmas into the lives of as many children as possible! 

1. SMS to 7763 (200 RSD)
2. Account: 160-279491-71, Banka Intesa
4. Foreign currency account:
IBAN: RS35160005080002381269
SWIFT: DBDBRSBG
Customer: Srbi za Srbe
Bank: Banca Intesa, Milentija Popovica 7b, Beograd
1. Call 17763 (2 КМ)
2. Account: 56201281300241-58 (NLB bank)
1. SWISH: 1230 133 900
3. Bank Giro: 5302-1077
4. Account: 5226 1060 858
3. Check to: Serbs for Serbs, Po Box 34206 Chicago, IL 60634
*all donors exercise the right to tax deductions
2. Check to: Serbs for Serbs Canada, 635 The Queensway, Lower Level, Toronto, ON, M8Y 3B3
3. Е-transfer to: donate@serbsforserbs.ca
*all donors exercise the right to tax deductions
1. Send text SZS to 81190 (2.99 Euro)
3. IBAN: DE84 7606 0618 0002 7519 92
*all donors exercise the right to tax deductions
1. SMS to 339, SZS 20, SZS 45, SZS 90, etc.
3. Konto: 61-335679-5
IBAN:CH57 0900 0000 6133 5679 5
Hedwigstrasse 3, 8032 Zurich
*all donors exercise the right to tax deductions
2. IBAN:AT97 3200 0000 1036 4339
SWIFT/BIC: RLNWATWW
Customer: Org. f. hum. Hilfe – Srbi za Srbe
Kalvariengürtel 39/6, 8020 Graz Austria
3. Call 0901 300 201 (3 Euro)
1. VIPPS број: 104 414
3. Account: 1503 83 80483
1. Account: 510-91548-03 (CKG bank)

*The first photo shows Nikolina Ristić (3) from Aleksinački Rudnik. She and her family are celebrating Christmas in a recently renovated house. It's time to help other children!