Skabo supported SMS to 7763 action

At the beginning of March, 2015, the Charity organization SRBS FOR SERBS established a cooperation with Telekom, Telenor and Vip mobile service providers to start a charity SMS number 7763 in Serbia. It is sufficient to send an empty SMS or an SMS with any text you want. Your message will be charged at 100 RSD (without the charge of your service provider). By sending a donation to this number, you directly help children from Serbian multiple children families throughout the Balkans. The famous rap artist from Belgrade, Bosko Cirkovic Skabo, supported the action of sending a message to 7763 in a short video message.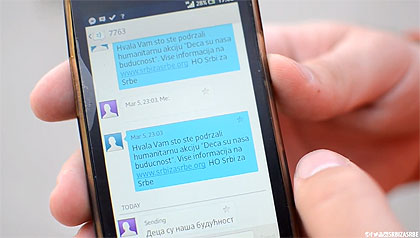 Send an SMS in Serbia to 7763 as part of the CHILDREN ARE OUR FUTURE project!
Related news