3,131 messages to 7763 in April and May

At the beginning of March, 2015, the Charity organization SERBS FOR SERBS, in cooperation with mobile service providers Telekom, Telenor and Vip, started a national campaign for helping socially disadvantaged families throughout Serbia. Through the charity SMS number 7763 in Serbia, during April and May, 3,131 messages were sent: 1,636 messages in April, and 1, 495 in May. The charity campaign continues. It is sufficient to send an empty SMS or an SMS with any text you want. Your message will be charged at 100 RSD (without the charge of your service provider). We extend our deep gratitude to all donors and friends of the organization who took part in the charity campaign of the organization SERBS FOR SERBS.
So far, the action of sending a charity SMS to 7763 (in Serbia) has been supported by:

Bosko Cirkovic Skabo, member of Beogradski Sindikat

Nedeljko Jovanovc, Serbian national handball team player

Novica Bjelica, Serbian national volleyball team player

Aleksandar Smiljanic, Serbian national basketball team player

Students of the University of Pristina in Kosovska Mitrovica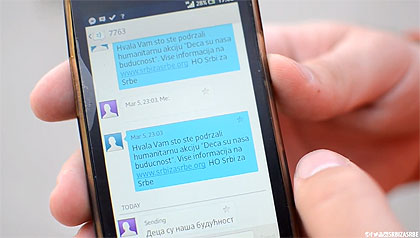 Send an SMS to 7763 (in Serbia) as part of the CHILDREN ARE OUR FUTURE project!
Related news